ECE Doctoral Candidate Zhaohui Wang Receives Collegian Innovation and Leadership Award
Engineering Women Shine At Women Of Innovation Awards Night!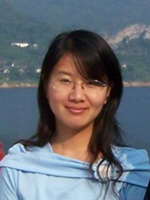 UConn Engineering was well represented during the 2013 Women of Innovation® Awards night on March 19th, with six outstanding women finalists among a total of 52 finalists spread across nine categories.  Doctoral candidate Zhaohui Wang, who is pursuing her Ph.D. in Electrical & Computer Engineering, took home the Collegian Innovation and Leadership Award for her exceptional achievements in the area of underwater acoustic communications and networking.
The Connecticut Women of Innovation Awards, now in their ninth year, are sponsored by the Connecticut Technology Council, Boehringer Ingelheim USA Corp., Covidien, Day Pitney LLP and United Technologies Corp. Please view photos of the event here.
Zhaohui was co-nominated by her advisor, Dr. Shengli Zhou, the Charles H. Knapp Associate Professor in Electrical Engineering, along with Dr. Yaakov Bar-Shalom, Board of Trustees Distinguished Professor & Marianne E. Klewin Endowed Professor in Engineering. In nominating her, they wrote, "Zhaohui's research has shown remarkable innovation and creativity. She has identified and addressed multiple challenging problems when processing data collected from several underwater acoustic communication experiments.  In particular, her work is the first in the field to solve the problem of high data rate multicarrier transmissions in channels with very long path arrivals in – for example – deep-water acoustic communication networks. Her work is also the first to address a general type of interference, which cannot be categorized by either impulse noise or narrowband noise as in existing works.  This enables concurrent Sonar operations without affecting the underwater acoustic communication performance."
Published: April 4th, 2013
Categories: News
Published: April 4, 2013
Available Archives