ECE faculty and students tackle COVID-19
By: Eli Freund, Editorial Communications Manager, UConn School of Engineering 
When COVID-19 caused the School of Engineering and the University to scramble in March, faculty and students were left to shut down operations and work remotely. While some might have reverted to keeping the status quo, there were a handful of Electrical and Computer Engineering department members that jumped into the fight to help combat this deadly pandemic.
One of those faculty members was Assistant Professor Abhishek Dutta. Using his research skills, Dutta assembled a portal that provides actionable scientific guidance on COVID-19 from its inception to therapy.  Dutta created a one-stop shop for verified and crucial information that has been referenced by NIMH and IEEE including others. The portal can be found at https://sars2cov.wordpress.com/.  In addition, Dutta has developed feedback control algorithms that provide guidance to policy makers on the number of positive tests to be performed daily in order to actively stabilize the disease spread.  The work will be presented at the 2020 IEEE Global Humanitarian Technology Conference (GHTC) and published in the Annals of Neurology.
Another faculty, Board of Trustees Distinguished Professor Krishna Pattipati, as part of his work as a task force member with the Connecticut Academy of Science and Engineering, delivered a comprehensive report on COVID-19 to Governor Ned Lamont. In this report, Pattipati and other members outlined risk-balancing strategies for re-opening businesses, contact tracing, fully reopening the healthcare system and recommendations to protect public safety. Because of this guidance, Connecticut has been recognized as a leader in controlling the spread of infection.  The report may be found at https://ctcase.org/reports/CASE_COVID_19_rev.pdf
Profs. Peter Willett and Krishna Pattipati collaborated with the Centre for Maritime Research and Experimentation (CMRE), based in La Spezia, Italy, to develop a modelling capability to forecast the spread of COVID-19. The collaboration used advanced statistical estimation techniques  to describe virus-spreading behavior patterns and apply the methodology to the forecasting of the spread of COVID-19 in Italy and the United States. The NATO CMRE and UConn scientists are now in the process of publishing a scientific publication that will compare the performance of their approach to standard models.  Jacob Krucinski, a Glastonbury High School senior who will be a UConn undergraduate student in the Fall, working with Prof. Pattipati maintains and projects the pandemic outbreak through a data analytic platform at https://www.kaggle.com/jacobkrucinski/coronavirus-covid-19-data-extrapolation .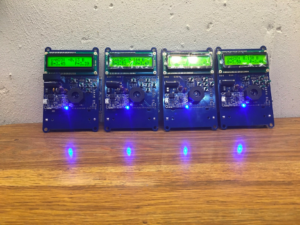 Lastly, when Chemical Engineering Professor Jeffrey McCutcheon and Edward Wazer with Connecticut Center for Applied Separations Technologies (CCAST) reached out to our department for help with electronics that will be integrated with UConn's low-cost, easily reproduceable mechanical ventilator, UConn ECE undergraduate students Kevin Knowles, Zachary Murtishi, Colt Nichols, Alex Jatsiv and Brittany Smith responded. These students designed and implemented a robust and user-friendly pressure sensor module that will be integrated with the mechanical ventilator, in consultation with Edward Wazer and Associate Professor Ali Gokirmak. These modules monitor pressure changes in the system and sound an alarm if the tubes are disconnected from the patients, a critical safety feature of mechanical ventilator. Whitcraft Group has committed to mass-producing the UConn's mechanical ventilator to respond any urgent need.
While not an exhaustive list of the work being done by the department, ECE has been a major force in combating a virus which has claimed hundreds of thousands of lives. For the immediate future, the department will continue to push forward and add to the work being done collectively by the School and the University.
Categories: News
Published: July 14, 2020
Available Archives