Junbo Zhao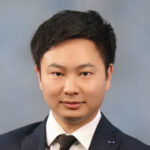 Junbo Zhao, Ph.D.
Assistant Professor
Grid Modernization Lead, Eversource Energy Center
Office: ITE 345
Phone: (860) 486-9496
Email: junbo@uconn.edu
Cyber-Physical Intelligence for Smart Grid Resiliency Lab: https://cpes.lab.uconn.edu/
Education:
Ph.D., Electrical Engineering, Virginia Tech
B.E., Electrical Engineering, Southwest Jiaotong University
Research Interests:
My research interests are cyber-physical power system modeling, monitoring, uncertainty quantification, learning, dynamics, stability control, resiliency and cyber security with DERs. The topics include but are not limited to
Power system modeling, estimation, identification, and synchrophasor measurement applications
Power system uncertainty quantification, cybersecurity, and resiliency
Power system dynamics and stability control with inverter-based resources
Big data analytics, machine learning, and robust statistical signal processing for smart grid
Power distribution system/microgrid analysis, optimization, and control with high penetration of DERs
Selected Honors
–2021 IEEE PES Outstanding Volunteer Award for dedicated volunteer service to promote activities, increase visibility and number of members, and educate the next generation of power engineering students.
-2021 IEEE Sustainable Power and Energy Conference Best Paper Award
-Best Paper Award, IEEE I&CPS Asia 2021.
-Two Best Paper Awards, IEEE Power and Engineering Society General Meeting, 2021
-Best Young Scientist Award at 2021 International Conference on Energy, Electrical and Power Engineering
-4 journal publications as the Top 1% Highly Cited Publications by Thomson Reuters Web of Science
-2020 Best Paper Award, Journal of Modern Power Systems and Clean Energy
-2020 IEEE PES Outstanding Power Engineer Award for contributions to PES Mississippi Chapter
-2020, 2021 World's Top 2% Scientists released by Stanford University
-Top 3 Associate Editor award, IEEE Transactions Smart Grid, 2020
-Best Paper Award, IEEE Power and Engineering Society General Meeting, 2020
-Best Paper Award, IEEE PES Innovative Smart Grid Technologies, Asia, 2019
Selected Professional Services
Associate Editor, IEEE Transactions on Power Systems
Associate Editor, IEEE Transactions on Smart Grid
Associate Editor, IEEE Power and Engineering Letters
North America Regional Editor, IET Renewable Power Generation
Associate Editor, International Journal of Electrical Power & Energy Systems
Technical Committee Program Chair (TCPC) of IEEE PES Renewable Systems Integration Coordinating Committee, 01/2022-present
Co-Chair, IEEE Working Group on Power System Static and Dynamic State Estimation, 08/2021-present
Chair, IEEE Task Force on Cyber-Physical Interdependence for Power System Operation and Control, 02/2020-present
Chair, IEEE Task Force on Behind-The-Meter Distributed Energy Resources: Estimation, Uncertainty Quantification, and Control, 08/2021-present
Co-chair, IEEE Task Force on Evaluation of Distribution System State Estimation Algorithm Performance, 08/2020-present
Secretary, IEEE PES Bulk Power System Operation Subcommittee, 08/2020-present
Secretary and Liaison, IEEE Working Group on Power Distribution System State Estimation, 08/2019-present
Secretary, IEEE Task Force on Risk Mitigation in Bulk Power System Operation, 08/2021-present
Secretary, IEEE Task Force on Synchrophasor Applications in Power System Operation and Control, 08/2018-present
Publications: We have published three book chapters and more than 140 peer-reviewed journal and conference papers, where more than 70 appear in IEEE Transactions. More information about it can be found at the following website: https://cpes.lab.uconn.edu/publications/