Home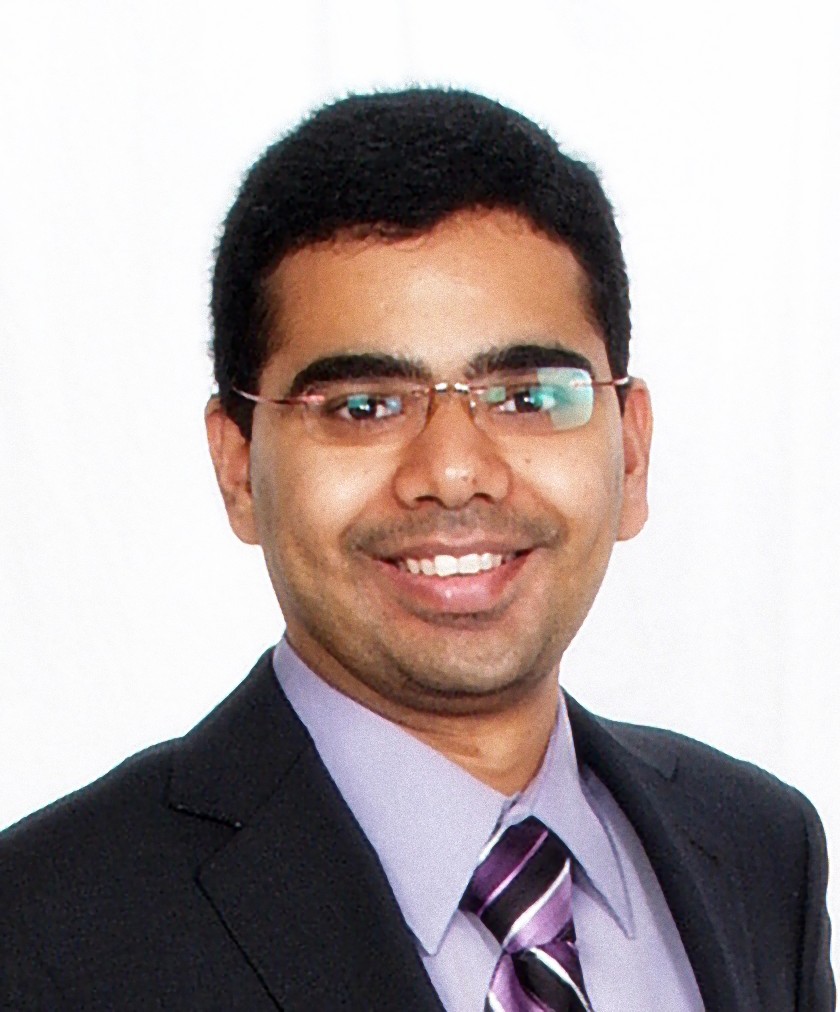 Ashwin Dani
Associate Professor
Office: ITE 467
Phone: (860) 486-3344
Email: ashwin.dani@uconn.edu
Research Webpage:
Education:
Ph.D., Mechanical and Aerospace Engineering, University of Florida, 2011
B.S., Mechanical Engineering, University of Pune, India, 2005
Research Interests:
Robotics & Controls Lab has been focused on solving various estimation and control challenges in robotics & automation and other engineering domains including industrial and biomedical applications. His main research falls into the following areas: (1) Human-Robot collaboration & safety issues in manufacturing environments; (2) GPS-denied navigation of unmanned aerial systems, improved autonomy; (3) Supervisory Control of building systems; (4) Sensor data fusion of electronic and soft (human-provided) information; (5) Estimation and control for neuro-prosthesis (exoskeleton-type structures as walking aids).
(Keywords) Estimation and Control Theory, Robotics, Autonomous Navigation, Localization and Mapping, Vision-based Control
Academic Experience:
Assistant Professor, Electrical and Computer Engineering, University of Connecticut, August 2013 – Present
Post-doctoral Research Associate, University of Illinois at Urbana-Champaign, August 2011 – August 2013
Selected Publications:
Journal Papers
D. Chwa, A.P. Dani, and W. E. Dixon, "Range and Motion Estimation of Moving Objects using a Monocular Camera", IEEE Transactions on Control Systems Technology, DOI: 10.1109/TCST.2015.2508001, 2015.
A.P. Dani, S.-J. Chung, S. Hutchinson, "Observer for Nonlinear Stochastic Systems using Contraction Analysis based Incremental Stability", IEEE Transactions on Automatic Control, vol. 60, no. 3, pp. 700-714, 2015.
J. Yang, A. P. Dani, S.-J. Chung, S. Hutchinson, "Vision-based Localization and Robot-centric Mapping in Riverine Environments", Journal of Field Robotics, DOI: 10.1002/rob.21606, 2015.
N. Fischer, A.P. Dani, N. Sharma, and W.E. Dixon, "Saturated Control of an Uncertain Nonlinear Systems with Input Delay" Automatica, vol 49, No. 6, pp. 1741-1747, 2013.
A.P. Dani, N. Fischer, and W. E. Dixon, "Single Camera Structure and Motion Estimation", IEEE Transactions on Automatic Control, vol 57, No. 1, pp. 241-246, 2012.
Patents
Method and Apparatus for Nonlinear Dynamic Estimation of Feature Depth Using Calibrated Moving Cameras
A.P. Dani and Khalid El-Rifai Publication #US 2010/0246893
Systems and Methods for Estimating the Structure and Motion of an Object
A.P. Dani and Warren E. Dixon No.: 61/496,191, patent pending (Innovator's Invention Award)
-University of Florida Office of Research/Office of Technology Licensing)
Book Chapters
A.P. Dani and W.E. Dixon, "Single Camera Structure and Motion Estimation" in Visual Servoing via Advanced Numerical Methods, Edited by G. Chesi and K. Hashimoto, Springer, Lecture Notes in Control and Information Sciences Volume 401, 2010, pp. 209-229.
A.P. Dani, Z. Kan, N. Fischer and W.E. Dixon, "Real-time Structure and Motion Estimation in Dynamic Scenes using a Single Camera" in Robotic Vision: Technologies for Machine Learning and Vision Applications, Edited by Jose Garcia and Miguel Cazorla, IGI Global Publication.