summerprogram2021
CS/EE Summer Research Experience for High School Students
June 16 – August 12, 2021
Students:
Amy Wei
Andrew Li
Anthony Song
Brian Hu
Daniel Zhou
Grace Liu
Hudson Shi
Kanishk Tihaiya
Faculty advising committee:
Zhijie Shi
Wei Wei
Xiaomei Cong
Jinbo Bi (co-organizer)
Shengli Zhou (co-organizer)
Projects:
A natural language question answering system on mathematics: Student: Amy, Advisor: Dr. Wei Wei
Electronics: Thermal sensors and operational amplifiers:  Student: Kanishk, Advisor: Shengli Zhou in cooperation with UConn's Young Scholars Senior Summit (Graduate student Mentor: Hasan Talukder, Facutly advisor: Dr. Helena Silva)
Object detection from images: Students: Anthony and Andrew, Advisor: Dr. Bi
Drunk people detection from face images. Student: Brian, Advisor: Dr. Bi
Emotion classifier. Student: Daniel, Advisor: Dr. Shi
On the improvement of COVID-19 pneumonia classification on chest radiographs through transfer learning, Student: Grace, Advisor: Dr. Bi
Assembly of a computer from discrete components. Student: Hudson, Advisor: Dr. Shi
Weekly Meetings
Mondays 3:30 – 4:30 pm
A zoom-meeting picture taken at July 26, 2021.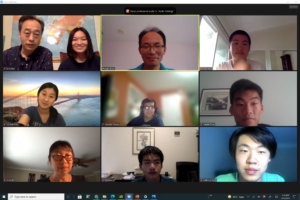 Final Presentation Day: August 12, 3:30-5:00 pm
Object detection from images. Anthony Song and Andrew Li, slides, abstract
Drunk people detection from face images.  Brian Hu, slides, abstract
On the improvement of COVID-19 pneumonia classification on chest radiographs through transfer learning, Grace Liu, slides, abstract
Assembly of a computer from discrete components. Hudson, slides