Annual Report and Summary
Overview
The ECE department underwent a transition in leadership as Prof. Rajeev Bansal stepped down as department head after 9 years in the role.  Prof. John Chandy became the department head in August 2018.  Strategically, the department continues to pursue long-term goals of sustained excellence in research and increased undergraduate enrollment.  Collaborative research, which is already strong in the systems group, is being emphasized more through more participation in various centers such as UTC-IASE, BECAT, C3, IMS, C2E2, and others.  We have begun efforts to increase outreach to high schools through more enriching summer programs and engagement with the IEEE student chapter.  We continue to grow our professional education efforts with a new certificate in Grid Modernization in partnership with the Eversource Center and a second cohort of over 40 students in the Power Engineering certificate with Electric Boat.  At the undergraduate level, a number of our faculty have engaged with CETL to develop new online courses for offering in Summer 2019 and 2020.
Faculty
The ECE Department is home to 27 tenured/tenure-track faculty members comprising 14 professors (eight with 30+ years of service to UConn), 11 associate professors, and 2 assistant professors. The faculty includes four Board of Trustees Distinguished Professors. During 2018-19, the faculty
Published 2 book chapters, 97 journal papers and 175 conference papers.
Received 2 new patents
Received 21 grants worth $8.7M and had research expenditures in excess of $7M.
Recent external faculty honors include:
Bahram Javidi was awarded the prestigious C.E.K. Mees Medal from The Optical Society (OSA) and selected as a National Academy of Inventors Fellow.
Peter Luh was named a University of Connecticut Board of Trustees Distinguished Professor and became the IEEE Technical Activities Board Periodicals Committee Chair
Peng Zhang was selected as a Centennial Term Professor in the School of Engineering. He was also the recipient of the 2018 IEEE Region 1 Technological Innovation Award and the Connecticut Power and Energy Society Excellence in Energy Award.  He was appointed a TUM (Technical University of Munich) August Wilhelm Scheer Visiting Professorship for 2018. He was also named as an Associate Editor for both the IEEE Transactions on Power Systems and the IEEE Transactions on Sustainable Energy.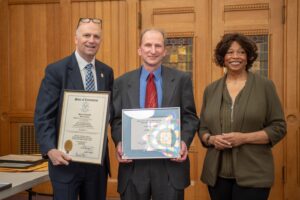 John Chandy was appointed Head of the Department and was elected to The Connecticut Academy of Science and Engineering.             
John Ayers received the 2019 AAUP Career Teaching Excellence Award
Marten van Dijk's 2013 paper "Path ORAM: An Extremely Simple Oblivious RAM Protocol," was selected last year as one of the Top Picks in Hardware and Embedded Security.
Shengli Zhou received the 2017-2018 ECE Faculty Award for outstanding teaching achievement. He was also appointed Associate Head of the Department.
Yang Cao received the 2017-2018 ECE Outstanding Research Achievement Award and was named as an Associate Editor of the IEEE Transactions on Dielectrics and Electrical Insulation
Omer Khan was named as an Associate Editor of the ACM Transactions on Architecture and Code Optimization
Undergraduate Education
The department offers undergraduate degrees in Electrical Engineering (EE), Computer Engineering (CompE, offered jointly with the Computer Science & Engineering Department), and Engineering Physics (EGPHY, offered jointly with the College of Liberal Arts and Sciences).  Fall 2018 undergraduate enrollments were: 372 students in the EE, CMPE, and EGPHY programs.   During the academic year 2018-2019, we awarded 77 B.S.E. degrees in EE in CompE, and EGPHY. Highlights of the undergraduate program include: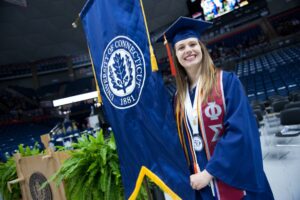 For the third year in a row, the UConn chapter of HKN (Eta Kappa Nu: the electrical engineering honor society) was honored with the IEEE-HKN Outstanding Chapter Award
ECE seniors participated in 28 capstone projects (including 25 sponsored by companies). Senior Design students William Brown, Donald O'Boyle and Laurne Williams with Prof. Sung Yeul Park won first prize in the air pollution sensor category at the 2018 WERC Environmental Design Competition at New Mexico State University.
The department joined the School of Engineering common offering of ENGR1166.
Undergraduates Nathan White and Daniel Trombetta with Prof. Ashwin Dani co-authored "Shape Estimation of Flexible Object/Electronics using Camera Sensor for Robotic Manipulation."
Undergraduates Jim Lin, Noah Lyke, James Quintanilla with graduate students Raj Hari Gudlavalleti and Barath Parthasarathy with Prof. Faquir Jain co-authored "Quantum dot gate FET's exhibiting three-state characteristics."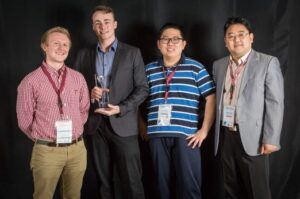 Graduate Education
Fall 2018 graduate enrollments were 74 PhD students, 27 MS students, and 8 Meng students.   During 2018-19, 16 successfully completed their Ph.D. degrees and 9 students garnered their M.S. degrees.
A new Graduate Certificate in Grid Modernization was approved and will start Fall 2020
Yan Li, who received her Ph.D in May 2019, was presented with the 2019 CT Women of Innovation Award by the Connecticut Technology Council. She also received the Outstanding Senior Women Academic Achievement Award from the Graduate School and the 2018 Rising Star award from the Connecticut Power and Energy Society.
Lingyi Zhang, a Ph.D student, is the first recipient of the Vijaya G. Raghavan Fellowship.
A paper co-authored by Danxu Zhang, Peter B. Luh, Junqiang Fan, and Shalabh Gupta, " Chiller Plant Operation Optimization: Energy-efficient Primary-only and Primary-secondary Systems," won the 2018 Best Paper Award for the IEEE Transactions on Automation Science and Engineering
Bing Yan was selected as a finalist for a 2019 CT Women of Innovation Award
Alumni Success
Saeed Khan (Ph.D. EE '94), Professor and coordinator of the electronic and computer engineering technology and unmanned aircraft systems design and integration degree options at Kansas State Polytechnic, has been granted a patent for a helical antenna wireless power transfer system by the U.S. Patent and Trademark Office
Jane Wang (Ph.D. EE '02), is a professor at The University of British Columbia. She was recently elected Fellow of the Canadian Academy of Engineering. Wang is an IEEE Fellow as well as the chair and founder of the IEEE Vancouver SP chapter.
Zhaohui Wang (Ph.D. EE '13), was promoted with tenure to Associate Professor in Electrical and Computer Engineering at Michigan Technological University.
Roy Maddocks, Jr. (B.S. EE '89) has retired as Fleet Master Chief following a distinguished 36-year career in the US Navy that began in the post-Vietnam era when the military was in a state of disarray. As a SEAL, Maddocks was involved in operational missions stretching from Afghanistan and Iraq to Bosnia and Kosovo. His awards consist of the Bronze Star Medal, Meritorious Service Medal (two awards), Joint Commendation Medal, Navy Commendation Medal (two awards), Army Commendation Medal, Navy Achievement Medal (two awards), and numerous Campaign medals. Maddocks earned an M.A. in national Security and Strategic Studies at the U.S. Naval War College.
Bing Yan (Ph.D. EE '17), Xin Shen (Ph.D. EE '18), and Yan Li (Ph.D. EE '19) will all be joining academia as new assistant professors in Fall 2019 at Rochester Institute of Technology, Massachusetts College of Liberal Arts, and Penn State University respectively.
Jean Homere (B.S. EE '93), Administrative Patent Judge for the US Patent and Trademark Office, Raymond Petniunas (B.S. EE '67), founder of Utility Resource Consulting, and Vijaya Raghavan (M.S. EE '94, Ph.D. EE '96) were all selected as members of the UConn School of Engineering Academy of Distinguished Engineers.
                                         
Previous Annual Reports