2022-2023 Overview
Strategically, the department continues to pursue long-term goals of sustained excellence in research and teaching.  Increasing undergraduate enrollment is still a high priority.  Last summer, we offered a new robotics summer enrichment program targeted to high school students and we plan to offer it again this summer.  HKN, our department honor society, has been instrumental in helping reach out to admitted students with targeted phone calls and informal webinar sessions.  The robotics engineering undergraduate degree kicked off in Fall 2022 with 11 students.  The number of applications for the Fall 2023 nearly doubled, and as of May 3, we are on track for 19 freshman robotics engineering students enrolling in the fall.  The new robotics degree has the potential to double the number of undergraduate students in the ECE department over the next 5 years.  We have an open robotics faculty search that has not been filled as of yet. 
We continue to grow our professional education efforts with our third cohort of about 20 students expected from Electric Boat completing a certificate in Power Engineering.  The department is also participating in an Ocean Engineering certificate with the ME department and the Marine Sciences Department.   
Personnel changes: Shane Eagleson returned to ECE April 2022, and Jodi Peterson joined in July 2022.  Mary McCarthy also retired in June 2022 but has been working part-time until June 2023.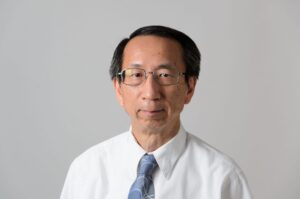 Recent Retiree and Emeritus Professor, Peter Luh, passed away on November 28, 2022.
Read more about Peter Luh's legacy from the memorial published in UConn Today.
Faculty
The ECE Department is home to 27 tenured/tenure-track faculty members comprising 13 professors (several with 30+ years of service to UConn), 9 associate professors, and 5 assistant professors. The faculty includes three Board of Trustees Distinguished Professors. During 2022-2023, the faculty
Published 25 journal papers and 17 conference papers.
Received 19 grants worth $3.9M and had research expenditures in excess of $6M.
Recent external faculty honors include:
Bahram Javidi was elected as a fellow of the American Association for the Advancement of Science (AAAS). 
Bahram Javidi was elected as a fellow of the American Association for the Advancement of Science (AAAS).  
Yaakov Bar-Shalom received the Pioneer Award from the IEEE Aerospace and Electronic Systems Society. 
Marten Van Dijk was selected for the 2023 Edward J. McCluskey Technical Achievement Award.  
Peter Willett was elected to CT Academy of Science and Engineering. 
John Chandy received the 2023 AAUP Service Award. 
Ali Bazzi was featured on WFSB News, discussing technology to use to help homeowners save on energy costs. 
Abhishek Dutta was invited to speak in May 2023 at the Gates Foundation's  Annual Symposium at the Institute of Disease Modeling. 
Omer Khan was promoted to Full Professor. 
Junbo Zhou earned a number of awards including: 
Outstanding Editor awards from

IEEE Transactions on Network Science and Engineering

,

IEEE Transactions on Power Systems

, and

CSEE Journal of Power and Energy Systems

.

 

Highly cited paper awards in 

International Journal of Electrical Power & Energy Systems

,

Applied Energy

, and

IEEE Transactions on Industrial Informatics

 

Two papers recognized as 2022

IEEE Transactions on Power Systems

Outstanding Papers 

 

2022 Outstanding Engineer Award- IEEE PES Connecticut chapter  

 

2023 Co-recipient of AAUP Research Excellence Award –Early Career  
Undergraduate Education
The department offers undergraduate degrees in Electrical Engineering (EE), Computer Engineering (CMPE, offered jointly with the Computer Science & Engineering Department), Engineering Physics (EGPHY, offered jointly with the College of Liberal Arts and Sciences), and Robotics Engineering (RE).  Fall 2022 undergraduate enrollments were: 371 students in the EE, CMPE, EGPHY, and RE programs.   During the academic year 2022-2023, we awarded 93 B.S.E. degrees in EE in CompE, and EGPHY. Highlights of the undergraduate program include: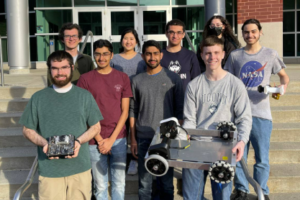 UConn Frost Robotics Club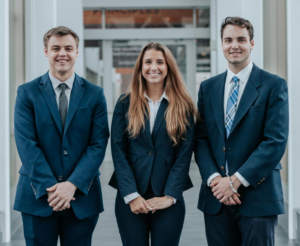 Nick Satta (EE'23) and his teammates placed 3rd in CoMIS - which is an opportunity for future IT leaders to test their business acumen, problem-solving, teamwork, and presentation skills in a case competition designed to simulate real-world business conditions. Left to right - Tyler Goodwin (BUS), Julie Somma (MEM), Nick Satta (ECE) 
Graduate Education
Fall 2022 graduate enrollments were 91 PhD students, 16 MS students, and 15 MENG students.   During 2022-2023, 4 successfully completed their Ph.D. degrees and 18 students garnered their M.S. degrees.
Jason Philhower, a Ph.D. student under the supervision of Prof. Junbo Zhao, received the IEEE PES CT chapter 2022 Outstanding Chapter Volunteer Award.
Jinxian Zhang, advisee of Prof. Junbo Zhao has received the Best Paper Award at the 6th IEEE Conference on Energy Internet and Energy System Integration. 
Prize winners from the Connecticut Microelectronics & Optoelectronics Consortium poster competition include: Grad Students Abdulmajeed Almalki , advisee of Faquir Jain, for Best Poster Paper, and Elisa Parent, advisee of John Ayers for Best Poster 
Graduate student Leila Chebbo, advised by Ali Bazzi, was one of only 12 students to receive a Professional Development Award to attend the iREDEFINE Workshop, a workshop designed to increase the number of women and underrepresented minorities (URMs) among the faculty in ECE departments. 
Hasan Talukder, advised by Ali Gokirmak and Helena Silva, won the best ECE poster award at the 2023 SoE Poster Competition, and Tashfiq Kashem, advisee of Helena Silva, Yen-Che Hsiao, advisee of Abishek Dutta, and Haoyi Wang, advisee of Junbo Zhao, won 1st, 2nd and 3rd place respectively in the IEEE/ECE Poster Competition. 
Raja Gudlavalleti won the ECE Spring 2022 TA award for his outstanding service to ECE 4244, and Ryan Harvey won the ECE Fall 2022 TA award for his outstanding service to ECE 4122. 
Tong Su, an advisee of Prof. Junbo Zhao, has received a best paper award from the flagship conference IEEE PES General Meeting 2023. Each year, less than 30 papers out of more than 2000 would be selected to get this recognition.
Leila Chebbo, below, at the iREDEFINE Workshop organized by the Electrical and Computer Engineering Department Heads Association.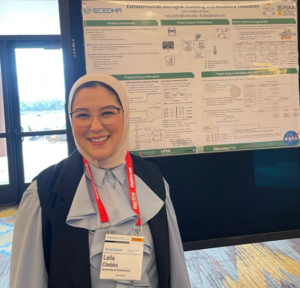 Alumni Success
A 1989

PhD graduate of ECE,

Hemchandra

Shertukde

,

received the IEEE Power Systems Society Transformers Committee Outstanding Service Award for longstanding commitment and participation in Committee activities.

He was

one of three recipients who have been an officer of 35 or more standards development activities (task force, working group, or subcommittee)

.

Hemchandra

was

an

advisee

of Yaakov Bar-

Shalom, and

is currently a

Professor

of the

EE Dept.

at

Univ. of Hartford

. 

 

David Sidoti,

a 2018

PhD graduate, has received

the prestigious

Delores M. Etter

Top Scientists & Engineers

Of

The

Year Award for Emergent Scientist. The

award is

one of the most prestigious civilian awards from

DoD

.

David is currently a

Computer Scientist at the Marine Meteorology Division in the Naval Research Laboratory in Monterey, CA.

 

David Crouse (PhD '11,

coadvised

by Prof Peter Willett and Yaakov Bar-Shalom) was promoted to Senior Member of IEEE.

 

Robert

Tomastik

– BS, ECE, 1989; Ph.D., 1995,

ECE  was

selected as

a 2021 inductee of the UConn Academy of Distinguished Engineers.

 
Previous Annual Reports