NASA Astronaut Rick Mastracchio to Receive Honorary Degree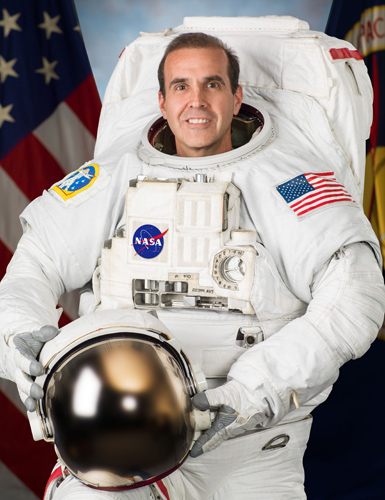 Astronaut and engineer Rick Mastracchio is currently orbiting Earth aboard the International Space Station and, barring a change in schedule, that will be the vantage point from which he accepts an honorary degree on May 10.
Mastracchio '82 (ENG) is one of nine distinguished individuals who will receive honorary degrees from the University of Connecticut this year.
After earning his bachelor's degree in electrical engineering and computer engineering at UConn, Mastracchio began his career with Hamilton Standard (now UTC Aerospace Systems) before transferring to Houston, where he applied his engineering knowledge supporting 17 NASA missions as a flight controller. He was accepted into the astronaut corps in 1996.
In the nearly two decades since he became an astronaut, Mastracchio, a Connecticut native, has made four trips to the International Space Station and logged more than 51 hours working outside the orbiting laboratory during space walks. As mission flight engineer on the space station since his arrival in November, Mastracchio has managed a variety of research projects. He also repaired a vital cooling system during several high-risk space walks.
Mastracchio will receive the Doctor of Science from the School of Engineering.
The Board of Trustees recently approved honorary degrees for Mastracchio and the following recipients.
Categories: News
Published: March 17, 2014
Available Archives